To me March in Japan is runny noses and red eyes. Yes, hay fever season. It is estimated that close to a fifth of the population suffers from hay fever. Many people wearing white surgical masks will queue at the doctors for half a day in order to get medicine. It's the same old story every year.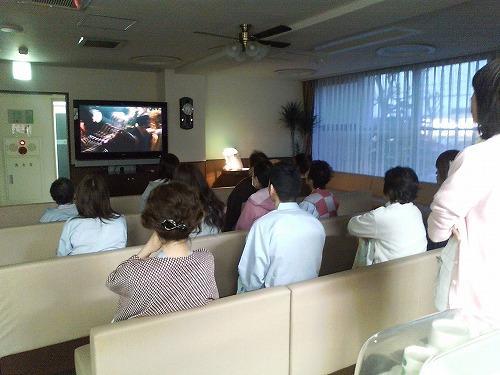 or maybe they just came to watch an Eric Clapton concert on the 50 inch TV
But this year there was a far greater fear for everyone in Japan...
Everyday when I hop on a train to work, I stare out the window into a blue sky over an urban Tokyo cityscape, even catching a glimpse of Mt. Fuji in the distance. This is my escape from the reality of being crammed in between two overweight middle-aged businessmen.
it's something...
But this one day, I found myself staring at this...
oh shit... Silent Hill just got real....
Yellow fog eclipsed Tokyo. The media claimed that it was a deadly concoction of
pollen, Asian Dust, and the

particulate

pollution PM 2.5
. It was originally said that the cause of the dust cloud was pollution from China (oh, that reliable scapegoat). [N.B it was later corrected that the fog had actually been
Haze
caused by a sudden climate change within Japan]
Tokyo fell into a small state of panic. Surgical Masks began to sell out from pharmacies. The sales of
air purifiers increased by 50%
.
cha-ching!
Still, this was a mere hissy fit compared to reactions after the Touhoku Earthquakes of March 11th 2011. But that's a story for another day...