To celebrate the release of the third film in the new Evangelion series "Q" on DVD and Blue-ray, Evangelion and Machi-con will collaborate to host a matchmaking party for Evangelion fans called "
Eva-con
".
Machi-con(街コン)is a matchmaking event of grandeur scale that shops of whole towns participate in. As few Japanese men have the balls to flirt with women and it is often perceived as "slutty" for Japanese women to accept being flirted, events such as these can become one the few chances to romantically interact with the opposite sex.
Sometimes, over 3000 Men and Women will participate in a single event (which just goes to show how many people there are desperate for contact).
The terms and conditions of Eva-con are simple. Be over 20 and have an interest in Evangelion. The price for admission is 4980 yen(approx. $45US) and have to be bought in sets of two. The event will be held in three locations, Umeda of Osaka, Harajuku and Shibuya of Tokyo.
So what's the significance of Eva-con? The nerds WIN!!!
It's the chance of a lifetime to step out of the internet forums and meet real 3D girls with the same love of Eva.
So in theory, this...
Could end up with this...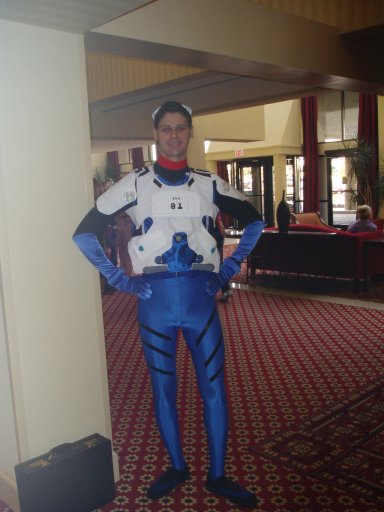 My time has come!
Although I sense strong AT-Fields protecting the virginity (Eva-fans would get it)