At the moment, Japan is crazy over official town mascot characters. They are know as ゆるキャラ (yuru-kyara), which is an abbreviation of ゆるいキャラクター (trasnlating to "a loose character").
They come in all shapes and sizes. From the cute...
Hikonyan. The mascot of the town of Hikoneshi in the Ibaraki prefecture.
To the military...


Saipon. The mascot of the defense force in the town of Saijo


They even have an
annual mascot contest
(the beauty pageant of the mascot world).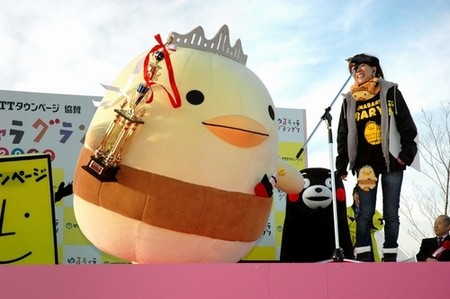 And... uh... I believe that our education, like such as in South Africa and... uh... the Iraq, everywhere, like, such as...
But there is one character which is quickly gaining popularity. His name is "Funassyi" (ふなっしー).
awww yeah...
His name derives from the town of Funabashi and the Nashi pears which Funabashi are famous for. He has a cuteness like a shitty drawing of your kindergarten niece. But this isn't the appeal of Funasshi. Check out his moves...
Yes, he's absolutely crazy. he jumps around, has a squeaky voice, wrestles with the host, and goes into fits that would make an epileptic blush. He's everything a Japanese person would want in a character.
And love them they do. They've whored him out and made
countless products
. And he's been in a phone commercial.
Even a crazy awesome anime character.
Fighting for the freedom of all Nashi Pears
And despite this fame, he is still the UNOFFICIAL character of Funabashi. Yes, the town of Funabashi are yet to want to claim him for there own!
But with 10 thousand followers on twitter and attracting over 300 people to each of his events, I don't see why they wouldn't despite the whole ADHD gimic.